Lightsaber Duel
From the Star Wars Merchandise Wiki.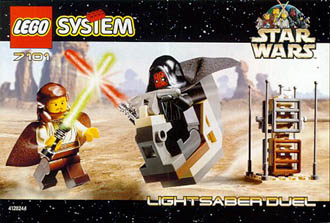 Lightsaber Duel was a set released around the 1999 Lego Star Wars line. It contained a Qui-Gon Jinn minifig with green lightsaber, a Darth Maul minifig with a single-bladed red lightsaber, Darth Maul's speeder bike and a moisture vaporator. It cost around $5.99, and was recommended for the ages 6-10.
This set was set on Tatooine where Qui-Gon and Darth Maul had their first duel. This set contained an oddity: no Moisture Vaporator was present during the duel between Qui-Gon and Darth Maul. Also, although this set included two major characters from the movie, it lacked Darth Maul's defining element: his saber's second blade. The set is movie-accurate because of the single blade, but fans desiring the "complete" Maul would have to purchase the Sith Infiltrator. The set was included in the Zellers Value Pack.